Welcome to . . .
Northern Suburbs Netball Incorporated
Northern Suburbs Netball is a Junior Satellite of Netball Wellington Centre.
We are comprised of 19 Primary and Intermediate Schools within the Northern Suburbs, providing students (from year 1 through to year 8 inclusive) with the opportunity to participate in Netball.
The majority of games are played at Newlands College, with the remainder played at Newlands Intermediate.


latest news

July Holiday Netball Clinic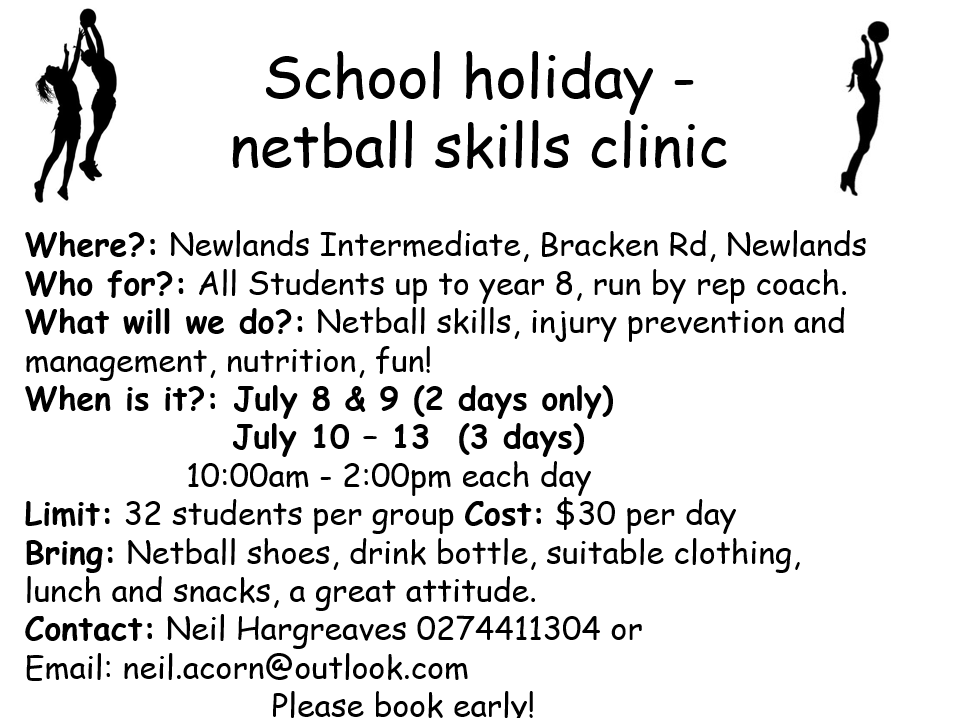 Player Development Programme
NSN is hoping to offer the year 7&8 player development programme this year at the end of June but we need coaches to be able to run the programme. This is af fantastic opportunity for coach development; you will receive training sessions, a coaching rsource and will be mentored by a Wellington Representative coach. This is ideally suited for year 7 and 8 coaches, but is also a good opportunity for year 6 coaches to develop for the following year.
This is a great way to grow your coaching skills as well as to give back to the community. For further details, or to register your interest, please Julie at juliegreen32a@gmail.com 
Registrations for the PDP programme are open. 

Years 5-8 Round Robin Draw
[ CLICK HERE ] to view the latest Northern Suburbs Netball Draw. Please remember that this draw is not finalised until Wednesday night and may change up til this point.
Note: the last game of the round is being played on the 6th July, which is the last weekend of term 2 and the first day of the school holidays. Please plan accordingly.

BBQ Roster
The BBQ roster for Terms 2 & 3 2019 is now available:

2019 BBQ Roster

School Registration Years 1 & 2
Registration for year 1-2 players has now closed.
2018 NSN cancellation policy
Click here to download the updated policy

2018-08 NSN cancellation policy


Updated Handbook for 2018
Here's a great read which answers many basic questions and a few of those things you are just not sure about. You might even learn something completely new too. Thanks to all the committee members who have helped updated it. Click on 'Handbook 2018' below to see the PDF.

2018 Handook - updated July


Queries . . .
If you have a query your first contact is your school delegate. Emails received from parents/members will be referred back to your delegate.
If you need to contact our chair or secretary please do so vie email : Chair or Secretary .


CALENDAR
[company] events from: to: as at: [today=dmy]
JULY-2019
03 / JUL
Yrs 1-2 Registrations Close
03 / JUL
Yrs 1-2 Registrations Close
06 / JUL
Yrs 5-8 Round 1 Game 5
06 / JUL
Yrs 3-4 Round 1 Game 5
18 / JUL
NSN Committee Meeting
7pm @ Newlands Intermediate staffroom
27 / JUL
Yrs 3-4 Round 2 Game 1
27 / JUL
Yrs 5-8 Round 2 Game 1
28 / JUL
Yrs 1-2 Star Helper Training
10-11:30am Queen Margaret College Gym
(This event starts at NOON and ends at 04:00 PM)
28 / JUL
Player Development Programme Session 1
Location and Time TBA

[company] events from: to: as at: [today=dmy]
AUGUST-2019
01 / AUG
Umpire Development Programme Refresher 2
7-8:30pm Newlands Intermediate
03 / AUG
Yrs 5-8 Round 2 Game 2
03 / AUG
Yrs 3-4 Round 2 Game 2
04 / AUG
Yrs 1-2 Game 1
Queen Margaret College Gym
04 / AUG
Player Development Programme Session 2
Location and Time TBA
10 / AUG
Yrs 5-8 Round 2 Game 3
10 / AUG
Yrs 3-4 Round 2 Game 3
11 / AUG
Yrs 1-2 Game 2
Queen Margaret College Gym
11 / AUG
Player Development Programme Session 3
Location and Time TBA
15 / AUG
NSN Committee Meeting
7pm @ Newlands Intermediate staffroom
17 / AUG
Yrs 3-4 Rain Reserve Day
17 / AUG
Yrs 5-8 Round 2 Game 4
18 / AUG
Yrs 1-2 Game 3
Queen Margaret College Gym
18 / AUG
Player Development Programme Session 4
Location and Time TBA
24 / AUG
Yrs 5-8 Round 2 Game 5
25 / AUG
Yrs 1-2 Game 4
Queen Margaret College Gym
25 / AUG
Player Development Programme Session 5
Location and Time TBA
31 / AUG
Yrs 5-8 Rain Reserve Day

Sponsors