Year 3 and 4
Year 3-4 games are played at Newlands College over terms 2 and 3 from around 1-4:30pm (depending on the number of teams registered). Registrations will open on the 1st April 2019

The focus for this age group is learning basic skills in a modified game of 5 v 5, using two thirds of a netball court. Mother Earth Future Ferns Year 3 and 4 is designed to be fast and fun, maximising participating and touches of the ball. With modified equipment and less players on the court, in 5 v 5 the game is less complicated. Five players in each team and rotating positions ensures everyone gets an equal chance to develop their skills.

Coaching
All teams are required to have a coach (or star helper) that completes the appropriate training/s as set out by Northern Suburbs Netball committee.

If you have any questions please contact year3and4@nsnetball.co.nz

Click here to download the Year 3 and 4 game information brochure.

click here to download the Year 3 and 4 rules.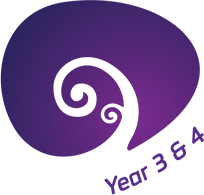 Weekly Skill development Sessions
Here is the list of activities for each session. Underlined words are clickable and take you to an example of it on Youtube.

Week 1 : Balance
In the orchard
Outside Leg

Week 2 : Ball skills
 Order Ball

Week 3 : Shooting
Square Up

Week 4: Pivoting
Pivot Tag

Week 5: Dodging

Week 6: Defence
3-4-5

Week 7: Shooting
Elevens

Week 8: Ball skills
Square Pass
Variety Ball

Week 9: Take-off
Foot forward first and stop

Week 10: Tournament